Engineered Wood Fiber for Playground Surfaces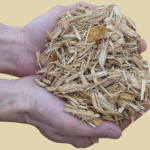 A playground is an important part of childhood. It's where children learn to socialize, exercise and test their limits. A playground needs to be a mix of exploration and safety, and you want to know your children can play to their hearts' content in a safe and protected manner. Engineered wood fiber safety surfacing goes a long way to reducing injuries after a fall or tumble, and makes for a more enjoyable and comfortable playground experience for your children.
Engineered wood fiber is an economical playground surfacing used on nearly ¾'s of all playgrounds in the U.S. because of its high impact absorbing qualities yet firm, slip resistant surface that, if properly installed, will meet accessibility guidelines. Less expensive products such as sand and pea gravel are not acceptable for accessibility.
When you're looking for an engineered wood fiber mulch (EWF) for playgrounds, you want to be sure you're getting a product you can trust. Cheaper copies exist on the market, but they won't give you the durability, resistance and results you're looking for. When building or renovating a playground, putting in high-quality surfacing can save money in the long run, thanks to lower maintenance costs and longer life of the product.
Kids play hard, and are tough on playground equipment. That's the way it should be! Let them enjoy their time at the park by providing them with the best-engineered wood fiber available, and they won't notice the hours pass as they play and grow at their favorite local playground.
But how can you tell if you are getting a genuine engineered wood fiber (EWF) that will be within your budget, meet all current safety and accessibility standards and give you peace of mind? The following are some questions to ask before you buy:
Is the product certified using 3rd party labs? If so, what is it certified for?
Does it meet current accessibility guidelines?
Ask for test results per ASTM F1951. The only standard test method for firmness and stability mentioned in federal guidelines.
What raw material does their EWF come from? This makes a huge difference in quality and how long the surfacing will last.
Does the manufacturer back up their surfacing products with any warranty programs?
Does the manufacturer offer liability insurance? Let's face it, we're dealing with children here. What happens if they fall and get hurt? Who do you go to?
Is there a specific way to install and maintain the surfacing so I get the most out of my purchase? This is very important for meeting accessibility guidelines and safety standards.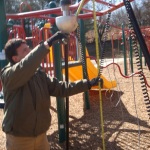 Does the manufacturer perform any testing on their product at actual installation sites? Zeager has their own test equipment to perform testing on their surface 'in-the-field'. That means we can test our products in all sorts of conditions (hot or cold) to make sure they perform properly. It's not required, we just want to make sure we are consistently providing a top notch product at a competitive price.
Woodcarpet® products by Zeager are backed by a comprehensive warranty program with over 10 million dollars in liability insurance. We protect our customers and give them peace of mind.
Adult Decisions for Kids Play
Kids may rule the roost at the neighborhood playground, but it's the adults that are responsible for providing the safest installation possible. A lot of work has gone into designing safer playground structures over the past few decades, and many older installations have been removed and replaced with more ergonomic and accident-reducing designs.
The same goes for the very ground our children walk on. Playground surfacing, when designed properly, can help lower the risk of injuries, both during normal play and when your child falls down. The advantages of WoodCarpet® engineered wood fiber playground surfaces include:
Impact-absorbing surfaces that offer more give than concrete, asphalt, wood, gravel or packed dirt. This is especially helpful if your child falls from a high point but is also easier on their feet and legs when they're running, jumping and tumbling.
Our engineered wood fiber materials are third-party certified by Protect Plus to ASTM standards for playground surfaces, and also meet other standards such as ADA, CPSC and CSA. This means you're getting playground surface materials that meet or exceed your expectations and the law.
Woodcarpet® engineered wood fiber is made primarily from natural virgin wood by-products, meaning there is no negative health or environmental effects. The same can't be said for rubber mulch, which certain studies have shown to leach out toxic chemicals over time.
Field testing that shows our playground surfaces resist years of play in many different weather and environmental conditions – such as extreme heat and cold, rain, wind, snow – and include drainage properties to allow for quick water removal and drying.
These advantages combine to make WoodCarpet® engineered wood fiber safety surfacing from Zeager Bros., Inc. a smart and easy choice for your playground project. You're getting natural materials and intelligent engineering in one product, and the result is top quality and performance from your playground surface.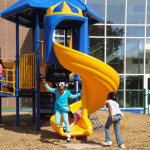 Installation Is Key
To get the most out of engineered wood fiber playground surfacing, you need to ensure it is installed correctly. To make your job easier, we supply detailed instructions and guidelines for installation of our WoodCarpet® products by Zeager. We also carry accessories such as TuffMat® resilient wear mats that are designed to work perfectly with our playground EWF products. They will give you a durable, attractive and comfortable playground safety surface.
Our specialists here at Zeager Bros., Inc. are always ready to answer any questions you might have, and help you choose the right engineered wood fiber products for your playground project. We can help you calculate the amount of EWF needed with our engineered wood fiber calculator, and give you tips on installation. We stand behind our products and offer a comprehensive warranty program on all our products backed by more than $10 million in liability insurance. This is our way of adding value to your purchase and giving you peace of mind when you trust us as your supplier for engineered wood fiber recreational surfacing products.
Give us a call today and we can start working with you to find the perfect playground surfacing solution. We're confident we have an engineered wood fiber product that will suit your specific needs, and help increase the safety, beauty and longevity of your playground.
Children won't realize the effort that went into their playground, but they sure will benefit from it. It's up to adults to provide a comfortable and enjoyable place for them to play, and here at Zeager Bros., Inc. we want to be part of that. We look forward to hearing from you and helping create a new or improved playground in your community for all children to enjoy.
WoodCarpet® Engineered Wood Fiber may not be the best in every category of playground surfacing but it is the most economic option that meets all the qualities and standards you need in a playground surfacing. You can contact us for more information about all the playground surfacing options we offer by calling 1-800-346-8524 to speak to a representative or email us at info@zeager.com.