Playground safety has come a long way from when you were a kid. Instead of hard, unforgiving surfaces such as concrete or asphalt, there are now numerous outdoor playground flooring options available to cushion falls and help to prevent serious injuries to children. You can choose a playground safety surface made from impact-absorbent materials such as rubber, wood fiber and artificial turf grass. In this post, we'll explore the various benefits and possible drawbacks of each type of safety surfacing for playgrounds.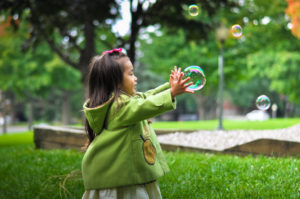 Rubber Playground Surfacing
Rubber surfaces are typically available in the form of playground rubber mulch or tiles made from recycled tires. Playground rubber surfaces may also be poured in place over a layer of compacted stone, asphalt or concrete. You can choose rubber playground surfacing in a wide range of attractive colors. Rubber surfaces are easy to maintain and repair. In the case of a rubber tile playground surfacing, for instance, you only need to remove and replace damaged tiles instead of the entire surface. And because rubber floors are made from recycled materials, they are friendly to the environment.
Perhaps the biggest drawback of installing playground rubber tiles is that it could pose a tripping hazard if the tiles become lose or contain seams. Zeager Bros., Inc. offers RecMat® System 71, an innovative interlocking tile system designed to eliminate seam issues, minimizing the risk of tripping.
Wood Fiber Playground Surfacing
Engineered wood fiber is another popular playground safety choice for consumers looking for a cost-effective surface. Engineered Wood fiber consists of mechanically shredded wood designed to thatch together to create an impact-absorbent wood "carpet." In addition to its relatively low cost, engineered wood fiber can absorb high impacts and provide excellent accessible surface that is slip resistant. However, because of the biodegradable nature of wood materials, they need replenishing from time to time, leading to increased maintenance time and costs. Occasional raking and topping off the surface is also necessary in most cases.
Zeager Bros, Inc. features an assortment of wood fiber products that will minimize maintenance costs and provide a safe, accessible surfacing for any playground environment.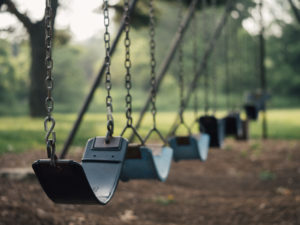 Artificial Turf Grass Playground Flooring
Artificial turf first came into vogue during the 1960s when it began to replace natural grass in sporting venues across the United States. Artificial turf offers the advantage of looking like real grass, while eliminating the need for mowing, weeding, watering and landscaping. This can result in a substantial reduction in maintenance costs over time. No pesticides are necessary for maintaining an artificial turf playground, an important benefit for any parent concerned about exposing their children to potentially harmful chemicals. Artificial turf is also much more durable than natural grass and is not torn up as easily, which can result in greater playground safety.
On the downside, all artificial surfaces including turf have a tendency to absorb heat, which can pose a potential hazard to children during extremely hot weather. Using shade structures can help with this. Some surfaces could also contain lead, zinc or other materials that could present a health risk during periods of prolonged exposure.
Our revolutionary RecGrass® is an outdoor playground flooring surfacing product suitable for childcare centers and just about any other outdoor environment. Consisting of a 100% nylon material, RecGrass looks just like real grass that is attractive, durable and easy to maintain. No infill products are used in our turf systems so no chance of small particles getting into children's mouths.
What to Consider When Choosing Playground Safety Surfacing
While installing a rubber, wood fiber or artificial turf playground surface will increase child safety, there are a number of factors to keep in mind when choosing the best surface for your needs. Different surfaces are designed to protect against falls from various heights, which is an important consideration on playgrounds with equipment that children could fall from, such as sliding boards or monkey bars. Durability is also important in terms of long-term safety, ownership costs and maintenance. Finally, you need to choose an outdoor playground surfacing flooring provider with extensive experience in the design and installation of these crucial safety features.
Contact Zeager Bros., Inc. to Explore Your Playground Safety Surface Options
Zeager Bros., Inc. is a family-owned and operated company offering a wide selection of rubber, wood fiber and artificial turf playground surfacing options that are field-tested and third-party certified and comply with the most stringent safety standards. We also have extensive experience in designing playground flooring surfacing systems for all types of outdoor environments. Contact us to learn more about your playground safety surfacing options today.